Lockheed-Martin delivered a 300 Kw high energy laser to the US Department of Defense
Create an account
Welcome! sign up for an account
A password will be sent by email.
Password recovery
Recover your password
A password will be sent by email.
Lockheed-Martin delivered a 300 Kw high energy laser to the US Department of Defense
Directed Energy weapons constitute, in the eyes of the Pentagon and the American armies, the preferred solution to respond to changes in aerial threats, in particular with regard to drones of all sizes and cruise missiles. As part of the Indirect Fires Protection Capability - High Energy Laser, or IFPC-HEL, program, the manufacturer Lockheed-Martin has just delivered a laser with a power of 300 Kw to the department of La Défense. This laser will take part in experiments as part of the IFPC-HEL program by the end of the year, and constitutes the culmination of a united effort in 2019 to acquire a high energy laser of 300 Kw or more , and designated High Energy Laser Scaling Initiative (HELSI).
This development is part of a global effort aimed at providing the US armies with a range of high-energy, high-performance lasers in order to protect potential land, naval or aerial targets. Thus, the US Army presented at the beginning of the year the prototype of the DE-SHORAD Guardian , a Stryker type armored vehicle equipped with a 50 Kw laser intended to protect land units from short-range threats of the C-RAM type (Missile Cruise - Rocket, Artillery and Mortar shells), as well as drones and stray munitions. The 300 Kw laser delivered by Lockheed-Martin is, for its part, intended for the IFPC-HEL Valkyrie program, shipping the laser, the detection and aiming system, as well as the power system, in a 20-foot container, in order to to protect sensitive sites from this type of threat, including saturating ones. Finally, the US Army announced the development of a 20 Kw laser embedded on a light armored 4x4 type Infantry Squad Vehicle as part of the Multi-Purpose High Energy Laser program, in order to neutralize enemy reconnaissance drones.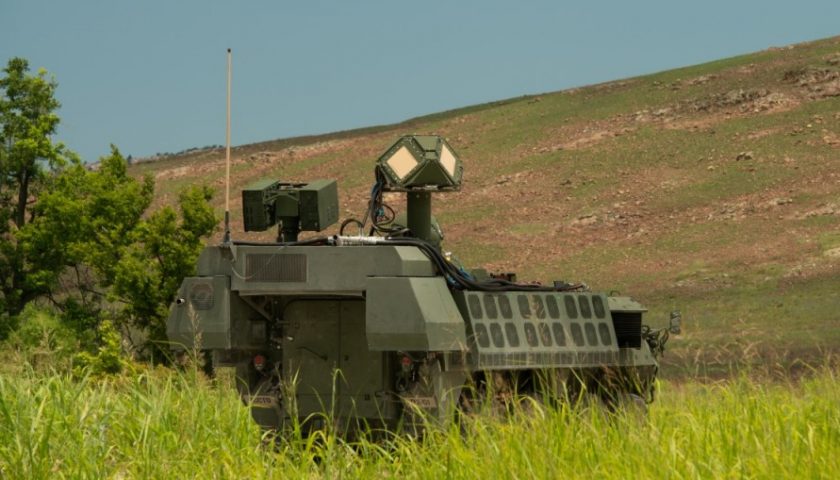 The US Navy is not left out in this area, since it has just equipped its first destroyer, the USS Preble, with a 60 Kw laser as part of the High Energy Laser with Integrated Optical-Dazzler program. and Surveillance (HELIOS), initiated in 2018. This laser aims to engage and destroy light targets such as reconnaissance drones, but also to counter the Electro-optical detection equipment on board these devices, in order to have a graduated but effective response. Ultimately, the US Navy aims to equip its ships with a laser with a power at least equal to 500 Kw, the threshold considered necessary to effectively constitute an effective defense against anti-ship missiles.
---

The rest of this article is reserved for subscribers -
Classic subscriptions give access to all Flash articles, Analyzes and Syntheses, without advertising , from €1.99.
Premium subscriptions also provide access to articles over two years old in the archive, as well as advanced research tools , and to publish two press releases or job offers per month for free in the Partners section ( + Push social networks / application).
---